The Special "Confederate Zombies!" Edition
A President threatening to adjourn Congress while nihilist pro-Trump protesters march in Ohio and Michigan merits a special edition just for the day.
The Big Idea
I don't plan on making More Stable Union a daily, but so much happened on Wednesday, April 15, 2020, that I don't want to wait until next edition to refer to it. And may The Force help us, I'll probably have a whole bunch of other disturbing things to consider by the next regular weekly MSU.
On April 15, we saw possibly the only thing more dangerous than Donald Trump consolidating the Republican Party as an extreme Hungary-style nationalist/authoritarian party: we saw him fragment it further, strengthening an increasingly angry core while weakening its few weak remaining institutional checks.
Protests happened today in Michigan and Ohio against actions by Governors Gretchen Whitmer and Mike DeWine to enforce social distancing and "bend the curve." In Lansing, the car-based rally ended up blocking a street near a hospital, preventing at least one ambulance from getting there quickly. To me, the iconic shot of the day is this great zombie apocalypse shot taken by Columbus Dispatch Photographer Joshua Bickel in Columbus.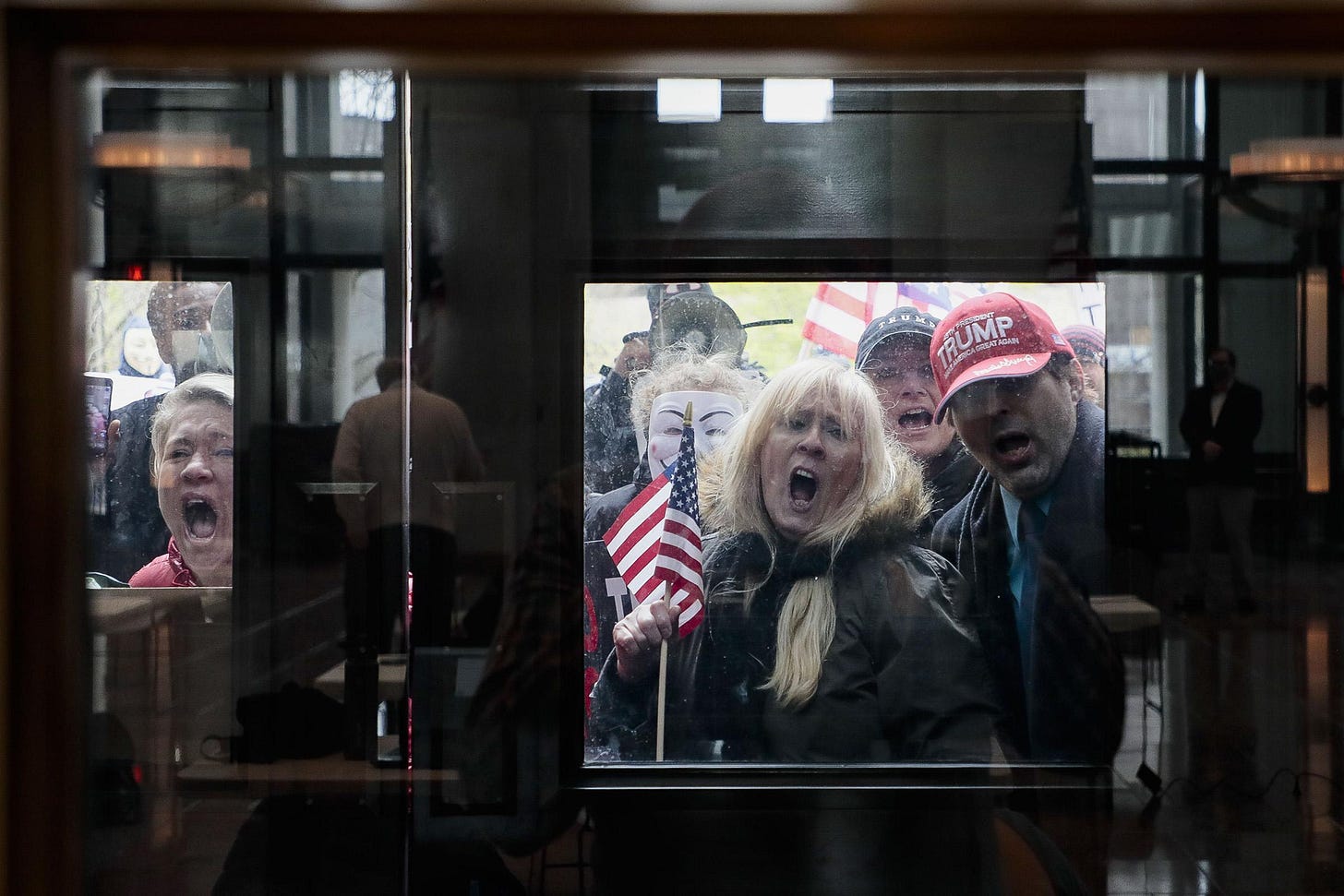 The man in the Trump hat is protesting a Republican governor. Meanwhile, these two shots from Lansing capture the overall vibe nicely, but you probably need the audio of them chanting "lock her up!"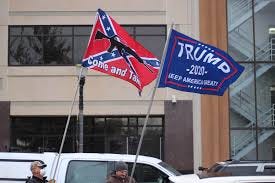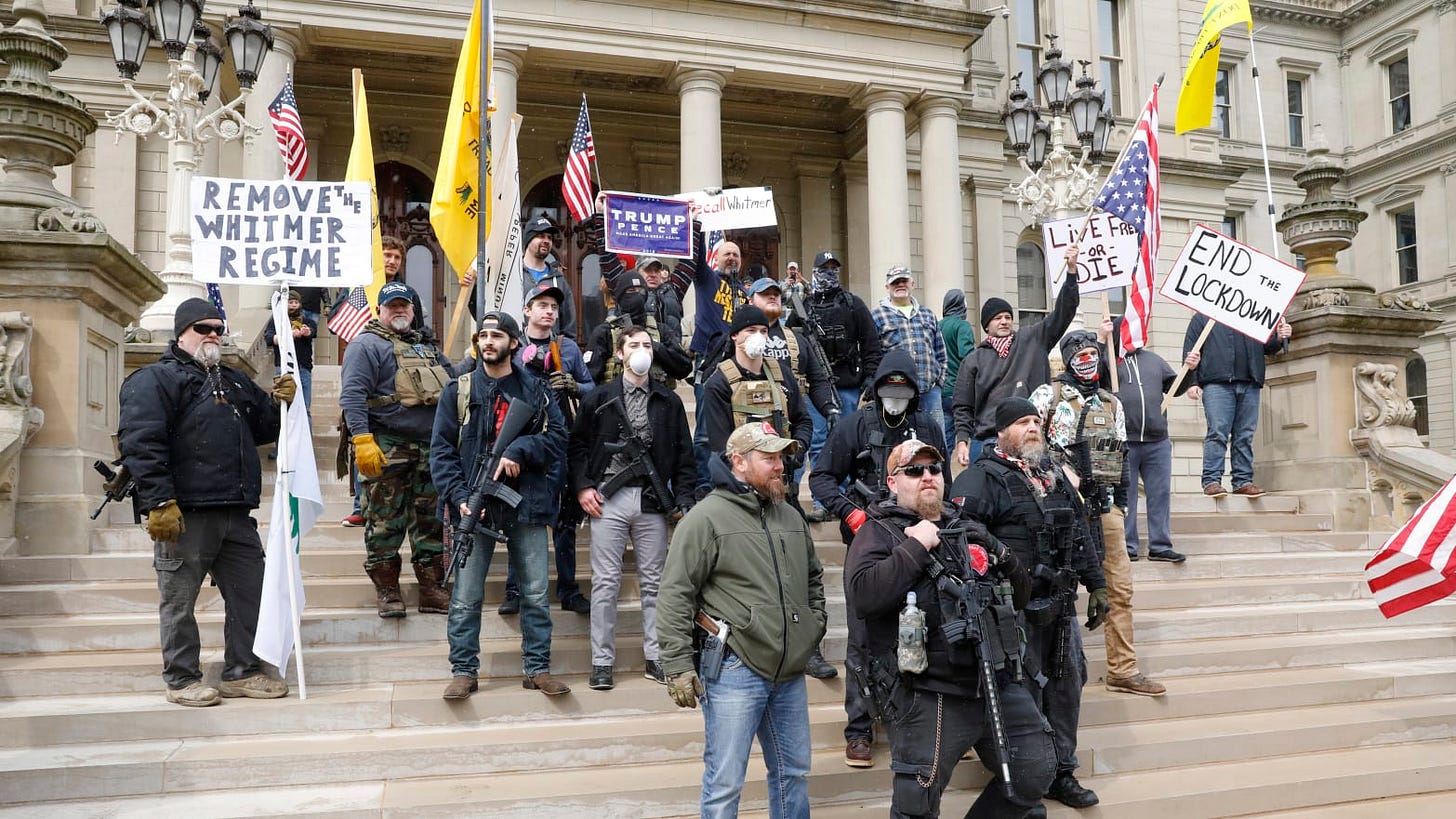 It's enough to make you think their issues with Hillary Clinton may have been as much about her gender as her emails?
What scares me most about these photos is that we've got different forms of extremism coming together at once:
·       We've got guns at a rally that isn't even connected to guns or the Second Amendment—you'll recall I noted Trump won't need to order his followers to bring guns if he calls them, they'll just do it anyway;
·       We've got Confederate/White Nationalist symbols (and the Proud Boys showed up) in a (historically) staunchly Union state for a rally that ostensibly wasn't nationalistic;
·       One of the leading organizing groups is funded by the President's own Secretary of Education;
·       We've got people who believe themselves Trump supporters protesting measures that Trump ostensibly still supports—yes, he wants to end social distancing measures, and blusters about it, but he hasn't called on anyone to stop them now. They're ahead of him, meaning he might have radicalized them, but they won't necessarily hang on his guidance. Trumpism is growing ahead of Trump.
Back in Washington, Trump was threatening to adjourn Congress because he feels the Senate hasn't done enough to push through his nominees—with an adjournment, he could make recess appointments. His basis for this truly unprecedented threat is the Constitution's Article II, Section 3, which allows the President to adjourn Congress when the two houses cannot agree on a shared date. This is nuts at multiple levels:
·       There isn't currently a disagreement on adjournment between the Senate and House for Trump to act on—he'd have to get Mitch McConnell to engineer one. But McConnell cares about his own power, and he has none if the Senate adjourns, so he's highly unlikely to go along;
·       The Senate, being GOP-controlled, has been assiduous in confirming Trump nominations—it's Trump who's been slow in nominating people to many vacancies. Anyone still not getting confirmed is someone many Republican senators are uncomfortable with;
·       Trump is going on this tear over an appointment to the Broadcasting Board of Governors—not exactly a critical gig—because he's attacking Voice of America, which is pointless; finally
·       Trump is attacking one of the three remaining Republican power structures independent of him: the Senate, John Roberts's Supreme Court, and the few GOP governors (like Mike DeWine, cf. above) who still don't bow the knee to him. Unless McConnell does a really unexpected climb-down, if Trump pushes this issue he'll create both a constitutional crisis between Executive and Legislative (which he'll likely lose, as Pelosi and McConnell will just ignore him), and a much more dangerous threat within the GOP.
Trump may not even realize it, but the effect of creating a power struggle between himself and the GOP Senate will be to alienate an increasingly-radicalized base even further from one of the few party elements that can still, um, what's the phrase… check and balance him. This may get him tactically through a few more news cycles, but it's building more tensions in a radicalized base that have to release somehow sooner or later.
Here's hoping nothing happens on April 16 that makes MSU into a daily. If you have other ideas or contributions for MSU, send them to monganjh1@gmail.com, and follow MSU on Twitter at @MoreStableUnion. Please share with all your friends so they can subscribe at morestableunion.substack.com. And stay safe, healthy, and distanced!